Artisan Pao joins hands in preserving Lo Lo ethnic people's culture
Editor
September 30, 2022
45

8 minutes read
VGP — Meritorious Artisan La Se Pao has acknowledged that as sources of identity, culture and heritage are valuable factors for empowering local communities and enabling vulnerable groups to participate fully in social and cultural life.
For many years, Pao, a local resident of the northern mountainous province of Ha Giang's Dong Van District, has joined his hands on culture preservation activities. The 65-year-old hopes to help maintain the unique traditions and customs of his people.
"It is important to preserve our cultural heritage, because it keeps our integrity as a people. It implies a shared bond, our belonging to a community. It represents our history and our identity; our bond to the past, to our present, and the future," said Pao who was taught folk songs and dances and how to play traditional musician instruments since he was 10.
He said culture gives people a chance to understand traditions that are specific to the ancestors. People can gain a historical perspective of their family and culture, including details about their heritage that are unique.
"The Lo Lo people's folk songs are based on three different melodies while there are five dances. I grew up and immersed myself in such beautiful music which gathered sound of pan flutes, gongs and bronze drums. And attractive dances are important part in my life."
Pao said music and songs are taught mainly through oral transmission. Main themes of the songs are about love, labour and prosperous and happy life.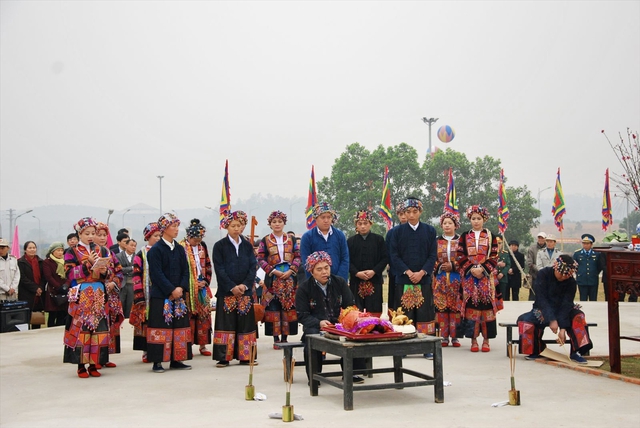 Lo Lo people can sing and dance anywhere at any time and for anyone even though they are strangers. Their stages can be the front yard and the rice paddy. They can perform in festivals and celebrations such as weddings, funerals, rain blessing and ancestral worship ceremonies and New Year's Day.
"Songs are performed in most of Lo Lo people's events. Our melodies are to congratulate the groom and bride in their wedding. We sing to see off the dead people to the heaven," said Pao, the so-called expert of Lo Lo culture.
Recognizing the importance of music in Lo Lo people life, Pao tried his best to encourage everyone to learn and preserve these traditional values.
"The best way to preserve your cultural heritage, whatever it may be, is to share it with others," said Pao who has become a volunteer teacher at the Sung La Primary and Secondary Ethnic Boarding Schools for four years.
Pao not only teaches students how to perform folk songs, traditional dances and play instruments but also delivers them basic knowledge and information of the people' culture and heritage.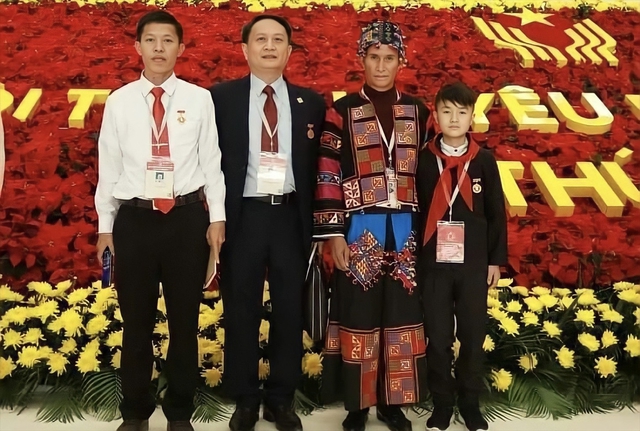 His special classes are organised twice annually in the first and last two months of the school year.
Under his reign, students have chance to meet and discus with artisans. They are allowed to practise singing and dancing and self-search and enjoy beautiful aspects of Lo Lo people.
Pao, who is currently chairman of the Sung La Commune's Folk Arts Association, is also an active and enthusiastic participant in all community's culture events.
He expects his strong love and endless fascination for the Lo Lo culture will inspire as many people as possible with these distinctive long-standing traditions, customs and practices.
Recently, during the 2022 Vietnamese Nationalities' Culture Day, Pao met with government and party leaders and talked about how to preserve culture of not only Lo Lo people but also other ethnic minorities.
He expressed concerns about the traditional culture of ethnic minorities in Sung La Commune, which is being gradually lost over time and massively influenced by other cultural flows.
In his opinion, villages' elders and local authorities need to take part in the culture preservation campaign. They should regularly popularize and introduce the characteristics of Lo Lo ethnic culture to the younger generations.
Different activities should be organised regularly to widely spread the cultural values and heritage among people and make sure their strong vitality in the community.
"Meritorious Artisan Pao is one of artisans who have worked hard and devoted their lives in preserving the cultural traditions of the Lo Lo ethnic community," said La Mi Kha, vice chairman of Sung La Commune's People' Committee.
"Pao not only conveys knowledge to the community, especially the young people, but also raises their awareness and responsibility of maintaining the Lo Lo people's culture."
With his contribution to the community, Pao was one of three typical artisans of Ha Giang invited to participate in the 10th National Patriotic Emulation Congress in 2020.
He also received Certificates of Merit from Dong Van District's People's Committee and the provincial People's Committee for his great efforts in culture preservation./.